BOROUGH GREEN GARDEN CITY
The Sand Mafia raise their ugly heads again ......... Read down for the latest news....
You should all have received the flyer from the Borough Green Garden City cabal through your letterboxes, and apart from raising their dream to 4000 houses, not much has changed.
If we wanted to live in a city , we would move to London. 4000 is a huge number, but difficult to visualise, it is more houses than exist in Borough Green, Wrotham, Platt and Ightham altogether !!
The Parish Alliance, representing the residents of the villages of Platt, Wrotham, Ightham, Borough Green, Shipbourne and Platt, has already made its position on Borough Green Garden City abundantly clear. [See More Planning Stuff]. The Sand Mafia's big selling point is provision of a Relief Road, playing on historic longing for the "Borough Green Bypass". The Alliance did not believe this claim, and so funded a Traffic Survey which proves gridlock will result. TMBC Planners completely ignored this, and actually increased the size of the proposal. So we are now commissioning our own Wide Area Traffic Survey, to add BGGC traffic to that generated by all the pther TMBC developments.
TMBC Planners are deliberately witholding information from us, refusing to release detail of their Local Plan
Below: The entire scheme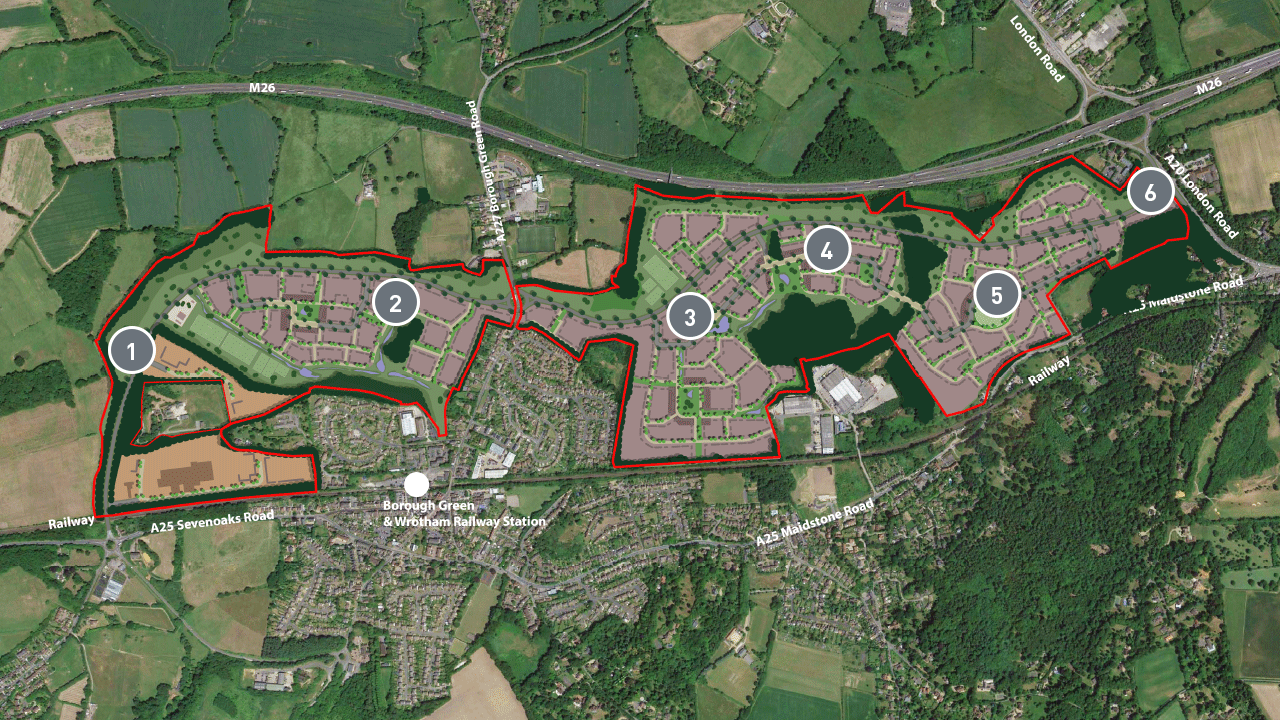 Below: This map has been lifted straight from TMBC's main Plan, and you can see that even the money hungry planners at TMBC have only included the BG Landfill site in the scheme. The scheme was lodged in TMBC's "Call for Sites" exercise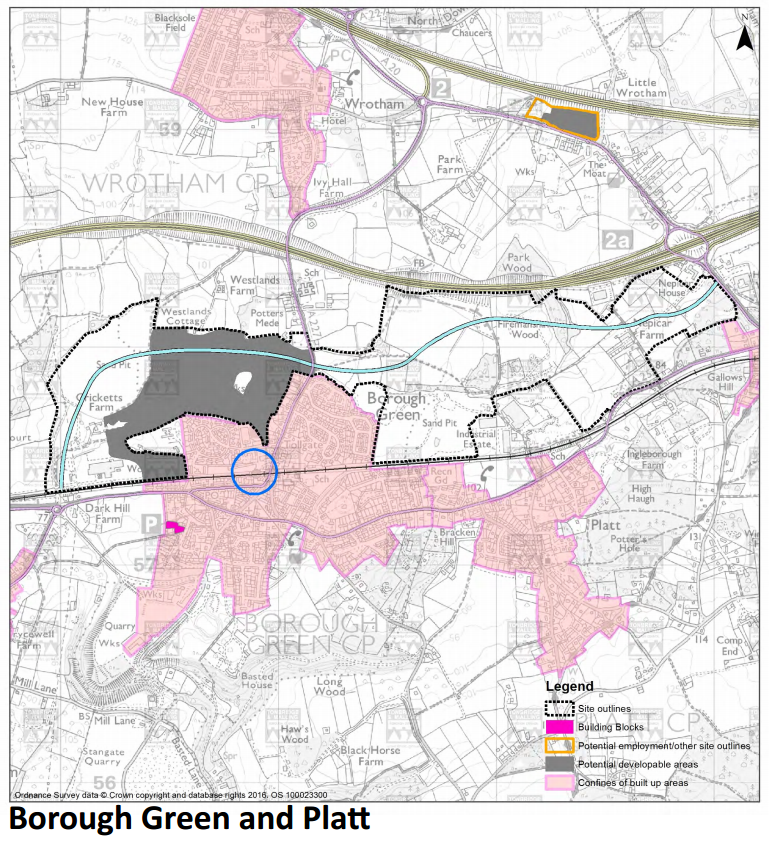 Because the land is Greenbelt, Area of Outstanding Natural Beauty, and there are two mineral applications outstanding that block the Relief Road, we fully expected TMBC to have dropped the scheme when the latest Draft Plan was released (in confidence) this month. However, as you can see below, TMBC have now included the Horsefield and Borough Green Sandpits in their preferred scheme. But there is a glimmer of hope, in that Steve Humphrey, Director of Planning at TMBC states quite categorically in this email that BGGC will not be included in the Plan without a prior comprehensive legally binding agreement by the Sand Mafia to fund and build the road . [See More Planning Stuff]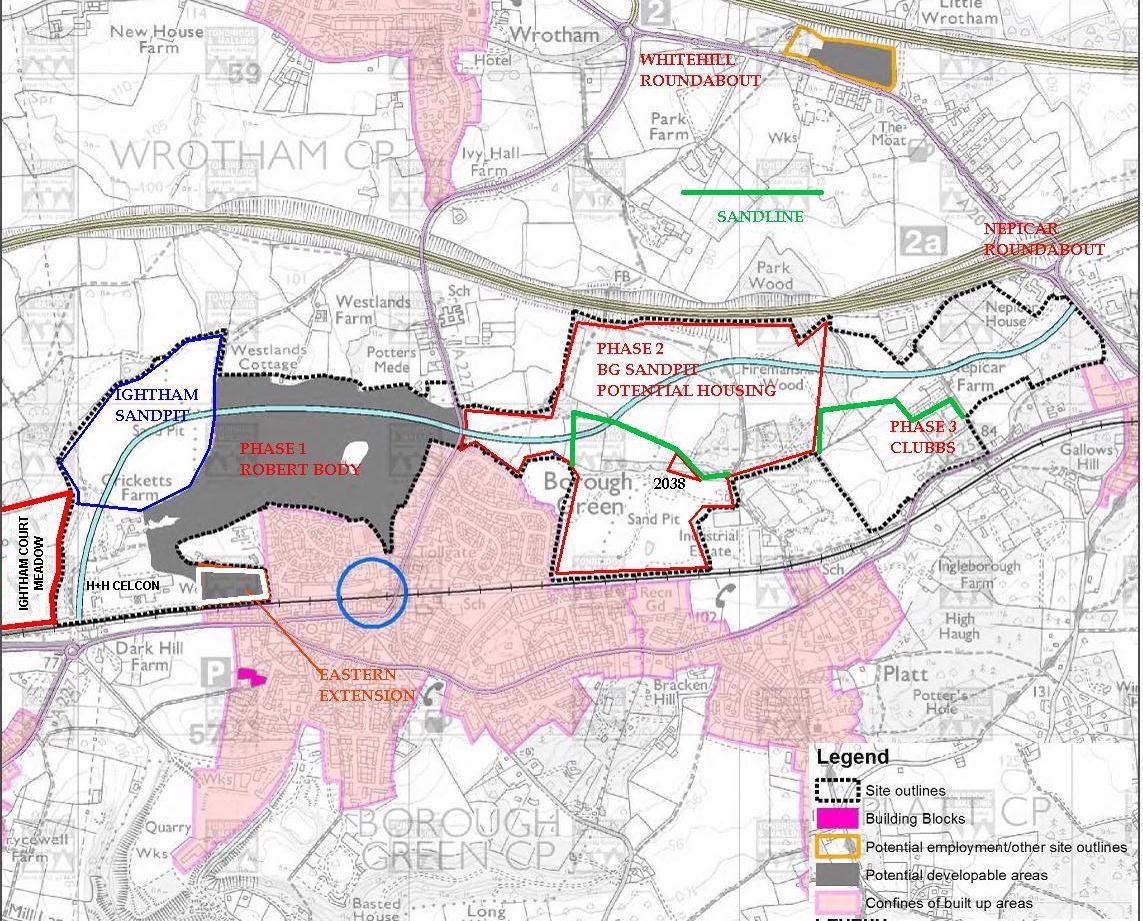 RETURN TO Community Website Home Parish Council Website Home